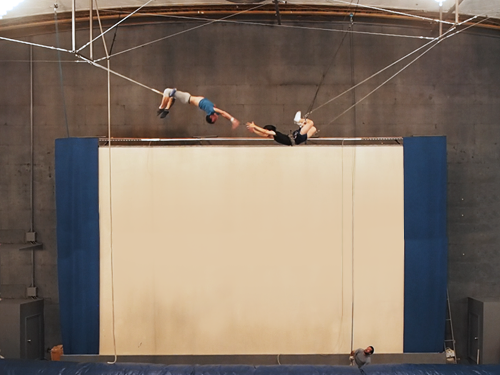 La Belle Province: AppCentrica Does Montréal
The fall time is a special time for us at AppCentrica. More than just the usual like sending kids off for another school year, or watching the leaves change colour, it brings with it the excitement of the AppCentrica Company Offsite. The AppCentrica Offsite is an annual event is one we look forward to every year as a chance to reflect on the year we've had, learn from the successes of our colleagues, and bring the entire company together away from many of the distractions of our normal day-to-day lives. It is a chance for us to all gather and have our annual general meeting of sorts as well as an opportunity to bond with one another in more of a social context.
This one was a particular one of interest as it was a task that had fallen into my lap: plan the greatest 3-days of the year for your fellow staff members. Having had experience doing some large-scale event planning (i.e. York University's largest Frosh Week at Winters College), I've been waiting for my chance to wow my colleagues with a larger scale event. I've planned quite a few social events at AC before, and I've been on the Christmas Party planning committee since I started here – but nothing really compares to the challenge of planning a multi-day conference for you and up to 50 other employees. Greg was the usual suspect to plan previous offsites (Niagara-On-The-Lake, Blue Mountain and Deerhurst being come of our previous locations), so it came as a little bit of a shock to me when I was told 1-month in advance of our offsite time that Greg is too busy to plan the offsite and that I needed to do it all within the 1-month timeframe with no legwork done for this year's offsite.
The one-month time frame was extremely tight, but I wanted to make sure I didn't skimp on quality. I wanted to try something a little different this year, so I decided to have us venture away from the sleepy resort towns of years past, all the way to La Belle Province!  I love Montréal – the food, the culture, the art and the city is so wonderful! I wanted to share that with my colleagues, so I set off planning the 3-day conference in Montréal. We have a couple of resident foodies in the office, so I coupled with the top-food-dog in the office to plan the perfect Montréal stay: I handled the events and logistics, Patrick handled the food. So, on that cool, crisp weekend, the entire company travelled via planes and trains to the vibrant city of Montréal.  Many of us arrived early and made a weekend out of it before the offsite officially began. Some people caught a Habs game, some enjoyed the peace of spending time away from the kids, others explored the city with their significant others or friends, but all of us enjoyed sampling some of the best food the country has to offer! I went as soon as I could on Friday evening, so we enjoyed Friday night, Saturday and Sunday morning in Montréal before my whirlwind of an offsite began. Below is the summary of our trip, both personal and professional, in Montréal for AppCentrica's 2015 Fall Offsite:
#AppCentricaFallOffsite2015 (Montréal) Itinerary
Day 1:
Evening train from Toronto to Montréal. Montréal's gay village by night.
Day 2:
Grabbed brunch at Café Vasco Da Gama, took a stroll down to Old Montréal and to see the Notre-Dame Basilica. We met up with some friends in Old Montréal and had lunch at Olive+Gourmando (amazingggggg! Go! You will not regret anything). We walked along the Old Port into dusk and headed over to Justin Trudeau's home riding, Papineau, for some dinner at Restaurant Sandhu (where you can find both Italian and Indian cuisines under the same roof). After some after dinner walking we found our way to the greatest dance party I have ever been to in my life at SuWu (which also happens to do an A1 brunch).

Day 3:
After grabbing some breakfast at Pacini, we rented some Biki bikes and biked up Mont Royal. My carefully planned offsite started at 12pm at Hotel ZERO 1, so we had to high-tail it back to the hotel for 11am for the set-up. We welcomed the staff with lunch at the hotel's restaurant. Between 1pm – 3:30pm was when we had our meetings. After check-in, we split the company up into two groups where half the group started with the social activity (Escape Room puzzle solving at TRAPPED) and half the group toured around Old Montréal. At the end of the hour the two groups switched.  This was my first ever escape room, and I am sad to report that even with the CEO on my team, we came up just shy of escaping the Ancient Pyramid room. After the social activities were completed we all met up at Restaurant Veritage for dinner (a fine choice by Patrick). With our bellies full of delicious food, I surprised the staff by taking them for a night out at Bar Le Lab. For those that don't know, it is a bar where the drinks are served up with flames. The staff even do some fire breathing and fire juggling shows for patrons. It resulted in a riot of a night (so many laughs) and many ventured for some famous Montréal poutine before calling it a night.

Day 4:
Breakfast was served for all staff at the hotel restaurant, before commencing the meeting at 8:30am. Surprisingly, everyone made it on time to the meeting. The meeting session concluded before lunch. Over lunch at the hotel I announced to everyone that I had a real treat planned for the staff: getting some real Cirque du Soleil training at Trapezium (now renamed le Château de Cirque). We spent the afternoon learning the ropes (literally) for the flying trapeze, static trapeze and aerial silks. We had an absolutely unforgettable time laughing at and with each other. None of us should quit our day jobs to become acrobats or circus performers. Everyone said it was the highlight of the trip. After checking out the Jean-Talon market, we hopped on the subway and went back to the hotel to change. We headed over for dinner at VERSUS Restaurant (again, another amazing choice by Patrick). I'm sure I'm not the only one that still dreams of the food we had over this trip. The night culminated in a few games played at Les 3 Brasseurs before heading back to the hotel for the night.

Day 5:
The final day is always the hardest: the travel back to the office in Toronto. The last few of us departed the hotel once everything was all cleared up and headed to the airport. We had probably the worst first-time uber driver in Montréal who did not know where the airport was and who would ignore all instructions and directions from people in the car, but we just barely made it in time for our Porter flight back to Toronto. Once back in Toronto we went back to work at the office.

If there is one place that you visit in Canada that is not Toronto (sorry, I'm biased) you HAVE to go to Montréal. It is the ultimate foodie destination for all things delicious. They even have lots of vegetarian, vegan and speciality diet options (gluten-free and the sorts) and if you are not held back by any dietary restrictions, you have it made! The landscape is wonderful too – the Old Port and Old Montréal are so charming. The whole city has a little bit of an incline to it, so if you're biking you better have strong legs. Before you go though, check out the
MTL Blog
 – there are so many great articles and events that are captured there, it is your go-to guide for anything happening in Montréal.
The staff had an amazing time on the trip. Several AppCentrica veterans have said it was their favourite offsite by far (which is great to hear). I really enjoyed planning out an offsite in a city – there are just so many options for things to do, and it allows staff the opportunity to bond together as a big group, as well as enjoy their time together in smaller groups. I tried to balance the activities so that we had a little bit of everything for everyone. I certainly set the bar high… I have a feeling that I might get stuck planning these offsites for a while now. Not a bad thing! I love planning these types of events. Until next fall, AppCentrica! Au revoir. ?